http://news.sg.msn.com/oddities/article.aspx?cp-documentid=1980175
, my 7+ year old cousin Adib pops into my mind as he once brought up the thought of eloping to his mom.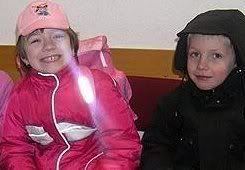 These 2 German kids of ages 6 and 7 were noticed by a guard while they were waiting for a train to get to the airport in which they wish to travel to Africa to tie their knot with the girl's 5 year old sister to be the wedding witness.
I could not decide if this is sweet or funny. Imagine if they actually get to Africa and hops to a church and proceeds with their 'ich liebe dich'. Its quite levelheaded of their parents to say that they could still put their plan into action at a later date, though their parents better keep an extra eye on these two as they might next try to skip the wedding project to the 'baby making project'.
I hope there will be a follow up on these two as they grow older, would be sweet if they actually gets married. The boy looks like a heartthrob aye? Like that blonde american idol kid who sings the backstreet boys song. Who knows who I am talking about?
When I first read this article at ->